8 Signs Your Marriage Is Over
Click the Play Button Below To Discover the No-Fail
Way To Find Out When Your Marriage Is Over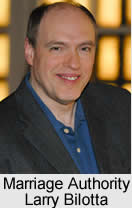 Get Instant Access To Larry Bilotta's 20 FREE Videos Answering Your Most Urgent Marriage Questions

Here's a quick look at some of what you'll discover in this video series:
"I love you, but I'm not IN love with you anymore".
(The hidden meaning behind this infamous saying – and what your spouse secretly wants from you.)
The REAL reason your spouse isn't speaking to you.
(And what you can do about it!)
The #1 thing you can do that will dramatically effect your marriage.
Are you accidentally pushing your spouse further away?
(Learn what to do and what NOT to do – to avoid making things worse.)
The dark side of marriage counseling that nobody is talking about.
Could your marriage have been 'doomed' from the start?
(The 'red flags' to watch out for that almost guarantee divorce.)
How to move past an affair and rebuild the trust again.
(And how to predict an affair before it starts.)
How To Cope With (and Restore) a Sexless Marriage.
And SO Much More!
Click here for a quick recap of each video topic. (Opens new window)
BONUS: When you sign up for this 20 video series, we'll also give you immediate access to our Marriage Quiz so you can discover the health of your marriage!
So if you're 100% committed to getting your family back, sign up for this free video series above.
IMPORTANT: When sign up for you the videos, you'll immediately receive a confirmation email to confirm you would like to receive information from us. (We do this to combat spam.)  As soon as you confirm your email address, you'll get another email with access to all 20 videos and the marriage quiz in addition to educational emails to help you further understand these reports and make sense of what is happening within your marriage. (You can unsubscribe at any time if you no longer want to receive emails from us.)
 About Larry Bilotta
Larry Bilotta is the leading authority on understanding people, marriage and relationships. Larry lived 27 years in a marriage made in Hell, but in the 28th year, fell in love…with his wife!
As one of the few marriage experts who actually transformed his OWN marriage, today, Larry holds the key to bringing a marriage back from the brink of divorce – even AFTER the papers have been filed.